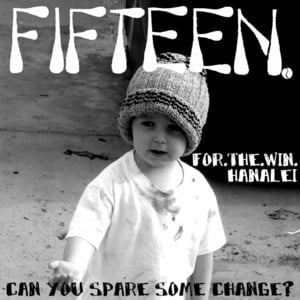 $

3.50 - On Sale
Released on Solidarity Recordings, we are privileged enough to carry an exclusive color of "clear red" vinyl. Only a run of 100 and only available through the Brick Gun Records store. Come get them while they last.
Fifteen / For The Win / Hanalei - what more can you say! The Fifteen song is "Caroline", a Jawbreaker cover that was recorded during the Swains First Bike Ride era. The For The Win song is "Middle" a Fifteen cover off of Surprise! And the Hanalei song is "Petroleum Distillation", a Fifteen cover off of The Choice of a New Generation, a personal favorite!
A percentage of proceeds will go to benefit two organizations in the bay area: Long Haul (thelonghaul.org) - an info shop in south berkeley that helps grassroot organizations & NEED - (www.berkeleyneed.org) - Needle Exchange Emergency Distribution is in Berkeley has been helping prevent infectious diseases for 20+ years. One great record, two great causes!
Side A
1. Fifteen - Caroline (Jawbreaker Cover)
2. For The Win - Middle (Fifteen Cover)
Side B
1. Hanalei - Petroleum Distillation (Fifteen Cover)
**PLEASE READ**
Unfortunately, due to skyrocketing shipping costs and our limited funds, we are unable to ship internationally. We hope to get international distribution soon. Sorry for the inconvenience.