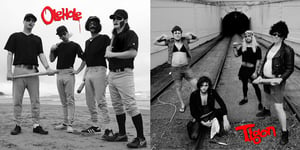 $

3.50 - On Sale
Olehole's newest pair of songs finds the band seamlessly crafting a fevered and innovative amalgamation of punk and angular post-hardcore with tinges of riff-driven hazy sludge.
San Francisco's Tigon has given us two frenzied tracks rife with haunts, technical flair, and crushing rhythms.
COMES WITH DIGITAL DOWNLOAD OF THE 7"!!!
Pressing of 500 on black vinyl.
BGR-002
**PLEASE READ**
Unfortunately, due to skyrocketing shipping costs and our limited funds, we are unable to ship internationally. We hope to get international distribution soon. Sorry for the inconvenience.